Children's Ministry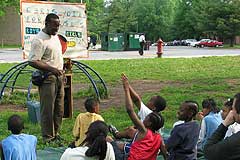 OAC trainee teaching an impromptu
kids' meeting
From the housing projects to the suburbs, Satan is using the lure of sex, drugs, dangerous gangs, and pop culture to destroy the lives of children. Today's children have many messages competing for their attention, but they still have a need for the only message that can free the soul from sin. Young people are the neediest audience for the gospel and often the most receptive. We seek out children in neighborhoods where often they have no other gospel influence upon their lives to bring them the Word of Life.
Some of our children's outreaches are pre-planned or recurring bible clubs; we have some children's bible clubs that have faithfully been meeting weekly for many years in row. Generally these are begun by churches with the help of an OAC evangelist and then continued on by faithful volunteers at the local church (read more about how we can partner with your church in evangelistic ministry).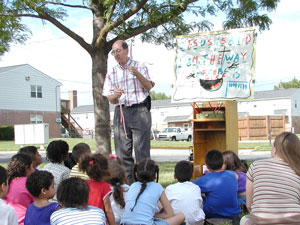 Our evangelists bring the gospel to children who might otherwise never hear it.
Other times, especially in the summer, we will go into neighborhoods where children are playing outdoors and hold an impromptu kids' meeting. We tell them to "go get your friends, ask your parents' permission, and come back here in five minutes for an exciting bible club!". This approach often allows us to reach dozens of kids per day in needy neighborhoods, and these meetings often open a door to share the gospel with adults in the neighborhood as well. This approach is also a good way of scouting out good locations for starting a regular weekly Kids' Bible Club.