Reaching the World Here at Home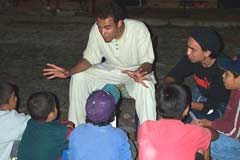 Kids and adults from all over the world are living right in your backyard, eager to hear the gospel.
You can encounter people from "the nations" right here in the USA. Our unique "melting pot" here in the US is filled with people from around the world who are here for the short term and for the long term, and nowhere is that more true than in cities like Washington, DC, New York, Boston, and Los Angeles. Our large population of immigrants and international students constitute an opportunity to reach out to the world just a short drive away.
International students are an especially fruitful area of ministry, since many of them come from areas that are largely closed to traditional missions efforts. The future leaders of China, India, Pakistan, and many other countries are studying today at our colleges and universities. When we preach the gospel on college campuses today a large portion of those hearing us and talking about the good news with us are international students. When these students accept the gospel they carry it with them to become ambassadors for Christ in their own homelands.
Reach People Groups from the 10/40 Window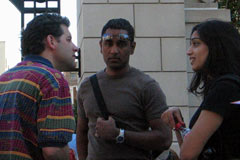 OAC evangelist discussing
the gospel with international students at
George Washington University in DC.
Are you an aspiring church planter, missionary, or evangelist? We can help you learn how to train indigenous people to communicate the gospel using story and simple sketching. Learn how to communicate His story in a way that is relevant to each person's cultural perspective.
OAC has a large and expanding overseas ministry in Europe, Asia, and the Americas, and is pioneering new ministries in Mexico and Africa. We have opportunities for trained evangelists and church-planters to participate on both a short-term and long-term basis.