Praying for OAC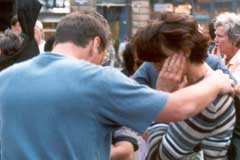 OAC evangelist praying with a hurting soul in the open air
As an evangelistic mission we are always aware that our work is ultimately God's work. We can put forth our best efforts in preaching and counseling, but in the end only God can save souls.
This is the reason why if you ask us what we need most as a ministry, our answer will always be "Prayer!" We know that everything we do will be fruitless if God is not in it. Please pray regularly that God would:
bless the preaching of His word through OAC.
prepare the hearts of those who will hear the gospel.
bring gifted workers and evangelists to OAC to strengthen the work.
provide for the physical needs of our staff and their families.
protect the safety of our people as they preach His word in an environment that is often quite hostile to the gospel.
If you would like to receive regular updates on ministry and specific prayer requests, please contact us.