About Giving to OAC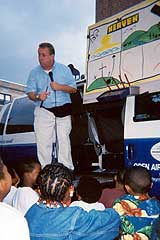 We rely on God's provision in all that we do.
Open Air Campaigners is a faith mission, dependent upon God for its resources. We believe that He has established this ministry and will continue to provide for our needs through the gifts of His people. Each OAC missionary raises his own support, and since we are not a church we ask our Christian friends to support their local churches first. Then we ask people to prayerfully consider giving to our ministry as well..
To assure proper control over finances, as well as other ministry matters, we are governed by a board of directors whose policy is carried out in a practical manner through an efficient Management Team concept. We are members in good standing of the Evangelical Council for Financial Accountability, which provides additional accountability. An independent audit of our books takes place each year by a certified public accountant outside of our organization and is available upon request.
Your support would be greatly appreciated, and when you give, you will do so with the full knowledge that every dollar is a valuable investment for God's Kingdom around the world. There are different ways in which you can assist us financially; some of these are listed below: