Share The Ministry
Spread the Word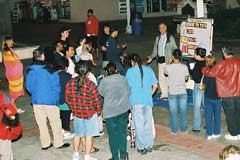 OAC evangelist preaching in Los Angeles
One of the best ways you can support OAC is by helping us build a broader base of believers who will support us as well. If you believe in what we are doing, tell your pastor, elders, deacons, friends, and family so that they can get involved too. Evangelism is difficult work, and many churches, church leaders, and believers just don't know where to start. We want to help! Here are some simple steps you can take to help us help your church:
Send an email to your pastor about OAC, and include our website address.
Talk with your church's missions committee about inviting OAC to your next missions conference.
Talk with your pastor or church leadership about organizing a one-day OAC sketchboard evangelism training event for your church.
Ask your Sunday School teacher or superintendent about inviting and OAC evangelist to do a presentation for you adult, youth, or children's Sunday school.