A few weeks or a few months of daily open-air ministry sound like something the Lord is leading you to consider? If so, take the next step and check out details on our short-term staff page to get the ball rolling.
Career Opportunities
Catch the Vision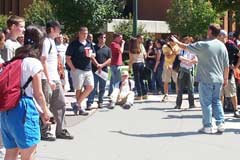 OAC evangelists have opportunities to proclaim the gospel publicly every day.
OAC has been seeking God and wisdom from others in the Body of Christ, and we believe that God has given us new vision. We believe that God has given us a vision and that He will raise up twenty new branches of Open Air Campaigners in cities around the United States. We believe that God will call people of differing gifts to fill these branches and make these branches successful in reaching the cities they are planted in.
At one time in England, great spiritual darkness filled England and the church died. God raised up evangelists like John Wesley and George Whitefield to preach the word of God publicly to the population of England. The result was a radical transformation of England towards God that overflowed to the USA. Right now in the USA the church has grown lukewarm and every year the percentage of Christians declines. We pray that God will have mercy on our country and that He would bring revival.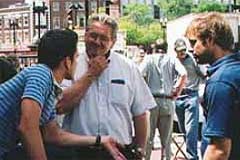 OAC evangelists reach out to people who otherwise might never hear the gospel.
Open Air Campaigners began as the result of a lawyer gathering people to pray. They called their group of prayer warriors the New South Wales Prayer Band. This resulted in E.P. Field being moved out to the public square to preach the Gospel resulting in the transformation of lives and the birth of Open Air Campaigners. Maybe God would call you to be a part of a new movement of His Holy Spirit with OAC.
Just like an effective military is made up of intelligence, reconnaissance units, infantrymen, pilots, ship commanders, and administrators, a successful mission needs people of differing gifts. That is why Open Air Campaigners is currently in search of people who have the call of God on their lives to minister as front line evangelists, follow-up secretaries, disciple makers, church team workers, administrators, and bookkeepers. These positions can be filled by college graduates, second career people, and retirees. Open Air Campaigners is a faith ministry whose staff members trust God to supply their personal and ministry needs through His people. Reasonable support levels are set for each person as they trust God to raise up churches and interested individuals for prayer and financial support.
Steps of Faith towards joining the OAC Team full time