Short Term Missions
Testimonies:
"OAC has been the defining aspect of my Christian witness. It has allowed me to meet the people where they are, and to present the Gospel in an atmosphere that seems comfortable to the average person. Without OAC, I wouldn't have the necessary tools to be able to witness to my friends."
-Justin
"Working with Open Air Campaigners (OAC) has been one of the most eye-opening experiences in my Christian life. The open air awakens me to the need for the gospel in our world today, and my need to tell others about Christ. During OAC missions, I have discovered the importance of the Holy Spirit as guide, and been able to reflect upon personal experiences with those I talk to. The entire experience of the OAC coerces me into the pursuit of a more active and lively relationship with Christ. The example of the OAC staff and their dedication to the Bible as complete truth is a major component of the blessings I receive when working with Open Air Campaigners."
- Mike
"We have been sending a team of young people (ages 13-18) ...through the Open Air Campaigners for about a decade now. The training has been excellent, relevant and practical ... As a leader, the most thrilling benefit is seeing those trained gain greater and greater confidence in sharing the Gospel with others."
- Youth Pastor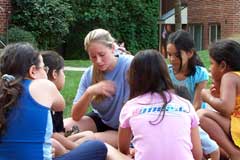 Student missionary sharing the gospel with inner-city children
Come by yourself or bring a friend, youth group or college team to one of our cities for spring break or a summer mission trip for a week , weekend or longer. These trips transform young people's lives as they experience their faith in a practical way. Team members will learn how to share their faith in the classroom and then go out to experience sharing their faith with both children and adults.
For many this is a life-changing experience. Many teens and college students go home with a new fire for God and the tools to reach their own circle of influence. The experience of sharing their faith will enable them to more freely and confidently share with their friends.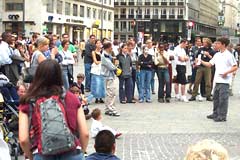 Proclaiming the gospel builds student missionaries' confidence in God and themselves.
OAC short-term missionary experiences teach:
Faith: Sharing your faith with strangers is pretty scary for most of us, especially at first! This experience will force you to exercise faith and will lead you to depend on God for the boldness to witness for Him.


Knowledge: In a day of open-air evangelism you might speak with a dozen or more people about the gospel. People will ask you questions you have never thought of! The knowledge and experience gained sharing with strangers in the open air is equally useful in sharing God's word with friends, neighbors, co-workers, and schoolmates.

Our Boston staff hosts many youth mission teams every year.

Service: Open air evangelism is really not a glamorous thing; it is hard work, and the results are not always 100% encouraging. This is a good thing! It teaches student missionaries to serve God diligently and faithfully, and to trust in Him to bless the preaching of the gospel.
Sound like something the Lord would want you to pursue? If so, fill our short-term application either ONLINE or DOWNLOAD to fill out and snail mail our way as your next step in the process. If you need clarification on any details or have questions, feel free to contact us at any time.
|
ON LINE APPLICATION
|
DOWNLOAD APPLICATION
|