Come With Us!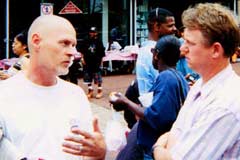 Working with OAC will bring you more opportunities to share the gospel that you ever thought possible.
Jesus' command to His followers is: "Go into all the world and proclaim the gospel to the whole creation." (Mark 16:15) How can you obey His command? Whether you have a lot of experience in evangelistic ministry or no experience at all, we would love to have you labor alongside us in God's harvest.
Not every believer has the call of an evangelist, but every believer is called to share his or her faith. Any believer can come share with us in the open air:
Share your testimony one-on-one with those who hear the preaching and express an interest. (John 15:27)
Help answer the questions of those who doubt. (Col 4:6; 1Pet 3:15)
Encourage the evangelists and uphold them in prayer. (Rom 15:30)
Learn to preach in the open air using the sketchboard. (Acts 10:42)
Preaching in the open air is often rewarding, and yet often frustrating.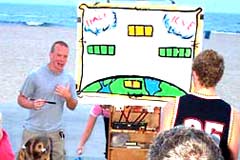 Spreading the gospel is the work of every believer.
Just like an effective military is made up of intelligence, reconnaissance units, infantrymen, pilots, ship commanders, and administrators, a successful mission needs people of differing gifts. That is why Open Air Campaigners is currently in search of people who have the call of God on their lives to minister as front line evangelists, follow-up secretaries, disciple makers, church team workers, administrators, and bookkeepers. These positions can be filled by college graduates, second career people, and retirees. Open Air Campaigners is a faith ministry whose staff members trust God to supply their personal and ministry needs through His people. Reasonable support levels are set for each person as they trust God to raise up churches and interested individuals for prayer and financial support.
What's Next?
Take a look at the places where OAC staff are located and see if the Lord would put a burden on your heart for a partcular city. Then, simply contact the OAC staff man in that area to coordinate schedules and see what current opportunites would be available for the time you have available.