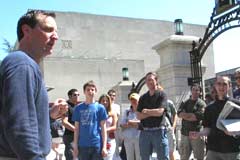 College campuses are just one venue for effective open-air evangelism.
Evangelism
Our mission is to take the gospel of Christ out from the church and into the public arena. Day in and day out you will find our evangelists proclaiming Christ on busy city sidewalks, in marketplaces, in parks, on college campuses, and in neighborhoods. Anywhere that people move and gather, you will find our 'pulpit.'
The United States is rapidly becoming a post-Christian nation. The average unchurched person in America today has no familiarity with the gospel message and has virtually no point of reference even to understand it. For the church to reach these people, we must take the gospel 'to the streets,' just as the apostles did in the book of Acts.
When people who know us think of Open Air Campaigners, one of the first things they think of is our "sketchboards." We use these sketchboards to paint an illustration that graphically depicts the truths of the gospel that we are sharing. This technique often draws large, curious crowds to see "what that guy is painting over there." This visual, story-telling style helps to engage the listener and communicate the gospel in our post-modern society.
Reaching the City
We are a ministry with a burden for reaching our cities. America's cities today are places of tremendous contrasts where you can see great wealth and power alongside desperate poverty and helplessness. But most of all, when we look at the city through God's eyes we see a vast collection of lost souls in need of a Savior!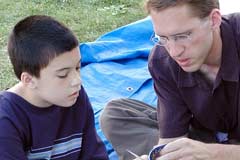 Open air presentations lead to opportunities to share one-on-one with children and adults both.
Reaching Children for Christ
Today's neighborhoods are a big mission field for us. Parents are eager for a positive influence and activity for their kids, and we provide this. Our "kids meetings" are sometimes spur-of-the-moment thing where we simply drive in to the neighborhood and announce that we will be having an exciting kids program in five minutes; other times they are planned events, and sometimes we will come back to the same place for several weeks at a pre-arranged time. Either way, our goal is to reach children with God's truth who may otherwise never hear.