Our Mission, Vision, and Values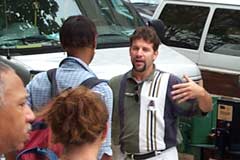 We are called to share the Good News with anyone who will hear.
Our Mission
Open Air Campaigners is an evangelistic ministry of preaching the Gospel to lost people and mobilizing the body of Christ to do the same, primarily through effective open-air outreach.
Our Vision
OAC/USA is trusting the Lord to use this ministry to impact 25 cities in America with the gospel through open air evangelism and other ministry by means of strategic establishment of branch ministries by the year 2025.
Our Core Values
Core Value #1
PUBLIC PROCLAMATION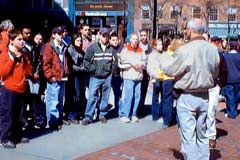 We believe in the proclamation of the gospel in the public square.
We value the creative public proclamation of the Gospel to all people in the open air and other venues.
I Cor 1:17-23; II Tim 4:2; Rom 1:14-16

Core Value #2
BIBLICAL PRACTICES
We value the biblical lifestyle of each of our staff as they are led by the Holy Spirit in their participation of Christian disciplines.
2 Cor. 7:1; Acts 6:3; Col. 3:1-17; II Tim. 2:21

Core Value #3
CHURCH PARTICIPATION
We value the active participation of OAC in local church evangelism.
Phil. 4:14-17; Acts 13:2,3; Eph 4:11-13; Matt. 28:19-20

Core Value #4
COOPERATIVE PRIORITIES
We value the concepts of teamwork and accountability within our organization.
II Cor. 8:16-22; 1 Cor. 12; Matt. 4:18-22; Luke 5:5,6; Ecc. 4:9-12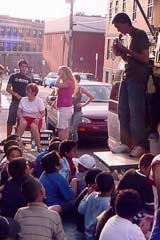 We rely on God's provision in all that we do.

Core Value #5
GOD'S PROVISION
We are committed to trust in God's provision for all of our personal and ministerial needs.
I Cor. 9:7-14; Matt 6:33; Phil 4:10-13; Ps 23:1
Prayer and financial support of our staff are always appreciated

Core Value #6
FOCUS ON PEOPLE
We value the Christ-like duplication of our ministry through compassionate biblical discipleship and loving practical evangelistic presentations.
II Tim. 2:2; II Tim. 4:5; 1 Cor. 3:9; Matt. 9:36-38; Mark 10:21; Jonah 4:2, 10-11