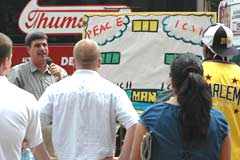 Our evangelists proclaim the gospel wherever there are people to hear.
Who We Are
Open Air Campaigners is an evangelistic ministry of preaching the Gospel to lost people and mobilizing the body of Christ to do the same, primarily through effective open-air outreach. Read more about our mission, vision, and values.
Our Beliefs
We are an independent, Bible-believing, faith-based, evangelical mission. Read our full statement of faith.
Our History
Open Air Campaigners began in Australia in 1892 and first came to America in 1956. Read more about our history.

Our Locations
God has allowed us to establish effective open air branches of OAC here in the States and around the world. We continually seek His will as it relates to adding workers and opening up new ministry locations where the gospel needs to be heard. Read our OACI UPDATE publication about the specific ministries of our current staff and be encouraged.