OAC Baltimore/Washington Branch - Established in 1967

Baltimore's Inner Harbor is a popular tourist destination, and a great spot for evangelistic preaching.
The Baltimore/Washington metro area is large, diverse, and dynamic. Washington is the hub of the federal government, while Baltimore, "Charm City," is a resurgent center of transport, commerce, and industry. This area is an important educational center, home to a large number of prominent schools such as Johns Hopkins University, Georgetown University, and the University of Maryland. The area is one of the most popular tourist destinations in the US. With the national capitol in Washington, a great number of national trade associations and non-profits have their headquarters here. The biotech, computer, financial, and defence industries are also very important industries in the area.
OAC has had a presence in the Baltimore/Washington area since 1976. Our evangelists are frequently found on the many college campuses in the area, or in tourist areas such as Baltimore's Inner Harbor and Lexington Market or Washington's many parks and plazas. We also run several weekly kids bible clubs in neighborhoods in Baltimore and suburban Maryland. Every summer we spend a week or two in Ocean City, Maryland, sharing the gospel with vacationers on the boardwalk there.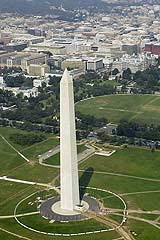 Washington is famous for its monuments and museums
Population:
8,207,040 residents in the Baltimore/Washington area as a whole
Greater Washington: 5,214,616 people (US Census Bureau 2005 estimate)
Washington, DC: 582,049 residents of the city proper
Greater Baltimore: 2,655,675 people (US Census Bureau 2005 estimate)
Baltimore: 641,943 residents of the city proper
Demographics
White: 60%
African American: 27%
Asian American: 7%
Other or mixed: 8%
More than 25% of the area's population is foreign-born.
OAC Baltimore contact is Tom Fox:
Email: tom.fox@oaci.org
Phone: (301) 943-8549
Visit our official OAC Baltimore/DC Branch Website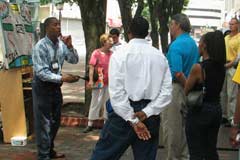 An OAC trainee preaching at Lexington Market in downtown Baltimore