OAC Boston Branch
- Established in 1984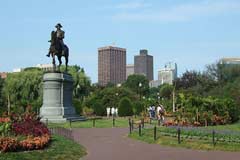 Boston is one of Americas' most historic cities.
Boston is one of the most important cities in America's past, present, and future. Boston is the cultural hub of New England, and an important center of commerce. No city is more prominent in higher education; the Boston area is home to over one hundred institutions of higher learning including Harvard, MIT, Boston College, and Boston University. Healthcare, biotechnology, finance, and computer technology are important industries in the Boston area.
OAC has had a presence in Boston since 1986, and we currently have more staff there than in any other city in the US. Our staff in Boston proclaims the gospel in parks, on college campuses, and on city sidewalks (Harvard Square is a favorite preaching spot). We also have a regular outreach to children in neighborhoods around the city. In the winter we user our smaller hand-held sketchboard and hold evangelistic meetings in the subway stations.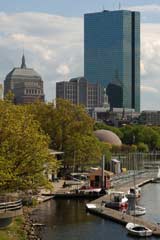 Boston's waterfront and skyline
Population
4,411,835 people in the greater Boston area (US Census Bureau 2005 estimate)
596,638 people residing in the city of Boston, proper
Demographics
54% White
25% African American
8% Asian American
9% from other races
4% from two or more races
14.44% of the population is Hispanic or Latino, who can be of any race.
The median age is 31 years.
OAC Boston contact is Eric Briscoe:
Email: eric.briscoe@oaci.org
Phone: (781) 413-4241