OAC Los Angeles Branch - Established 1960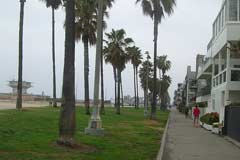 Los Angeles is America's second-largest city.
Los Angeles, the "City of Angels," is an incredibly influential city; it is the cultural center of western America, arguably of the whole US or even the world. L.A. is the hub of America's entertainment industry and also an enormous center of internationl trade; the aerospace, petroleum, and fashion industries are other important to the economy. L.A. is a sprawling metropolis, with a legendary freeway ssytem.
OAC has had a presence in Los Angeles since 1977. We like to preach the gospel on Santa Monica pier, Venice Beach, and other popular gathering places around town. We also conduct frequent children's meetings in neighborhoods around the city.
Population
12,923,547 people in the LA metro area (US Census Bureau 2005 estimate)
3,694,820 people residing in the city of Los Angeles proper
Demographics
White: 50%
African American: 12%
Asian American: 10%
Native American: 1%
Other or mixed: 31%
47% of the population are of Latin descent.
More than 40% of the city's population is foreign-born; 2/3 of these are from Latin America.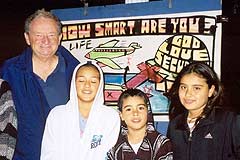 Russ Hodder, director or our LA branch, ministering to inner-city kids