OAC Orlando Branch - Established 1996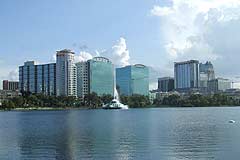 Orlando is America's playground.
Orlando (nicknamed "The City Beautiful") is the heart of the third-largest population center in Florida. The city is best known for the many tourist attractions in the area, in particular the nearby Walt Disney World Resort. The region sees an estimated 52 million tourists a year. Orlando is the second largest city in the country for number of hotel rooms and a one of the busiest American cities for conferences and conventions; the Orange County Convention Center is the country's second largest in square footage. The aerospace, manufacturing, and entertainment industries are other key parts of the local economy.
OAC has had a presence in Orlando since 1996. Our evangelist here, Peter O'Driscoll, partners with the Orlando Children's Church ministry which ministers to approximately 250 children each week. We also conduct evangelistic ministry for adults in Orlando and other parts of Florida.
Population
1,984,855 people in the Orlando metro area (US Census Bureau 2005 estimate)
213,223 people residing in the city of Orlando proper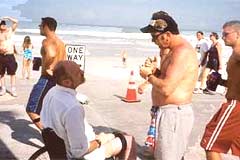 Peter O'Driscoll, director or our LA branch, ministering to inner-city kids
Demographics
White: 61%
African American: 27%
Asian American: 2%
Other or mixed: 9%
18% of the population are of Latin descent.


OAC Orlando contact is Peter O'Driscoll:
Email: peter@orlandochildrenschurch.org
Phone: (407) 760-4402