Reason for the Season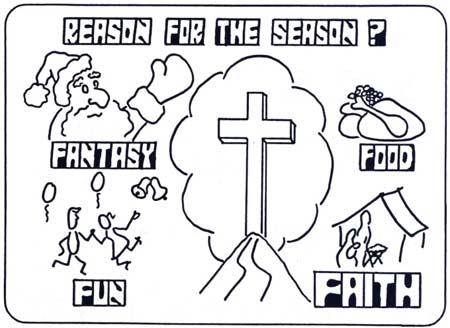 Summary: Many things have jumped on the Christmas bandwagon but the real reason for the season was God's rescue work for mankind.
Introduction: Christmas time has come to mean so much to so many. But what is the real reason for the season?
Is it FANTASY, some nice story for the children? In many ways we wish Father Christmas was true - he could give us whatever we wanted and take our problems away. It may be pleasant to live a while in the land of "what if" but we wake up to find our coffee cold. He can't do it.
FOOD is a big part of Christmas. Much time and energy is spent in preparing cakes, turkeys, mince pies and the pudding. But the only lasting result seems to be a bigger tyre around the middle.
Christmas time is a FUN time. We can forget all the problems of the year in the parties and the booze. It is an escape from reality but we are usually let down with a bump the next day and life is just the same.
But the real reason for Christmas has escaped so many. It is the greatest rescue work ever done. We don't need fantasy to wish it were true - it happened! It's effects will last far longer than any food of fun - they are eternal. God, in Christ, came into the world to save sinners (1 Tim 1:15 ), to make them alive in him by his grace (Eph 2:4). We need to turn in FAITH to the only one who can give us real cause to celebrate eternally.