Three Trees
Holiday-Themed Kids' Message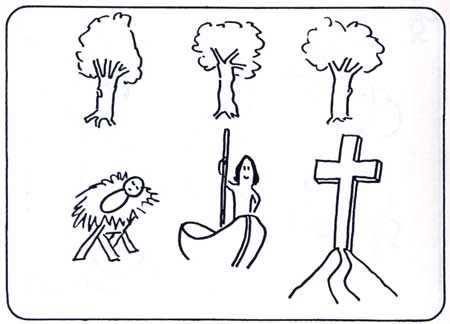 SUMMARY: Your life may seem dull and dreary but, if YOU want, you could be used by the King of Kings.
When the first tree was big enough, it was chopped down. The tree had wished it would be made into a cradle for a king. Instead, it found itself being made into a rough feeding box for animals - a manger. But one day, in the hay filled manger, a baby was laid. This was no ordinary baby. (Tell story of Luke 2:6-20). The tree realized it had become the cradle of the greatest king.
As the second tree grew to maturity, it hoped it might become a royal boat that would carry a king. Instead it became a rough fishing boat owned by a man called Peter. And this boat carried the only king who could ever calm the waves. (Matthew 4).
The third tree desired to be made into the gate of a royal palace. But it became the cross upon which men were to die. It became the cross of Jesus, the gateway to heaven and the throne of God for all who trust in Him.
CONCLUSION: If you feel useless and-the world seems to have turned it's back on you, turn to Jesus and He can make you into a child of God. (John 1:12,13)