Paul & Carmiña Adams
ON STAFF SINCE 1996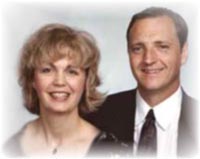 Paul Adams was saved at age 25 and is currently a member of Forcey Bible Church in Silver Spring, Maryland. He is involved in training church evangelism groups, teaching Sunday School and leading music for the teen group.
Paul likes fishing, spending time with his children, and rooting on his beloved Washington Redskins and Washington Nationals.
Introduced to Open Air Campaigners through Forcey Memorial Church on July the 4th, 1989 in Washington D.C., he and Carmiña took the OAC Sketchboard Evangelism Training and Candidate School in 1996 and came on staff full-time. Paul currently serves as an Evangelist-at-Large with OAC operating out of the Richmond, Virginia area.
Anniversary: 5/27/95
BIRTHDAYS:
Paul 12/30
Carmiña 5/28
Christopher 1/27/87
Shauna 9/24/97
Cameron 5/3/01

Links for the Adams' ministry: