OAC Wyoming Branch - Established 1991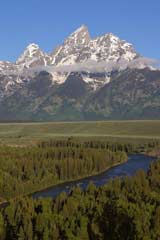 Wyoming is full of great natural beauty.
Wyoming is the least-populous state in the USA, and the second least-densely populated (after Alaska). Wyoming features an abundance of beautiful terrain and is home to several national parks, including Grand Teton National Park and Yellowstone National Park. Wyoming is traditionally a cattle-raising state, but today its economy depends on mineral production, tourism, and travel as much as on agriculture.
OAC has had a presence in Wyoming since 2002. Kurt Schafli came here from OAC Switzerland to start a gospel ministry among native Americans. OAC's ministry in Wyoming is based in the city of Riverton and centered on the Wind River Indian Reservation, home of the Shoshone and Arapaho tribes of Native Americans. Kurt conducts kids clubs and other outreaches on the reservation throughout the year.
Population
509,294 in the state of Wyoming
36,491 in Greater Riverton area (US Census Bureau 2000 census)
9,430 people residing in the city of Riverton proper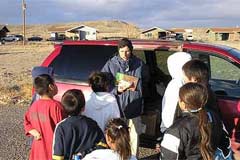 OAC ministry in Wyoming on the Indian Reservation requires creativity!
Demographics
77% White
20% Native American
2% from other races
2% from two or more races
4% of the population is Hispanic or Latino, who can be of any race.
The median age is 38 years.


OAC Wyoming contact is Kurt Schafli:
Email: wyoaci.org@juno.com
Phone: (307) 856-9672